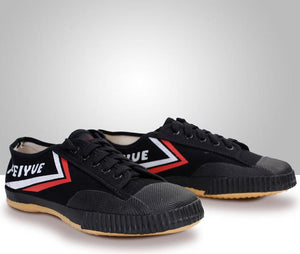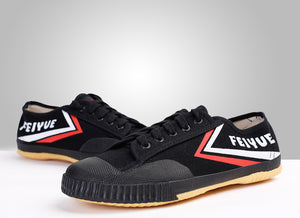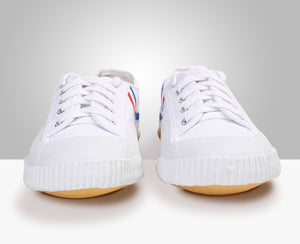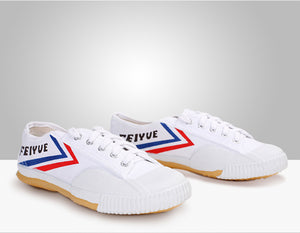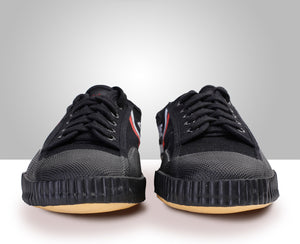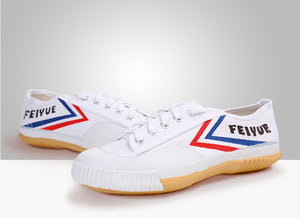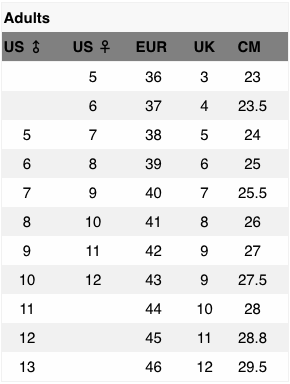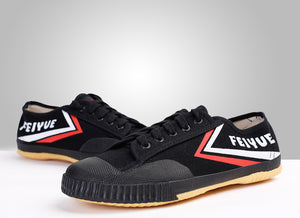 Say Nothing Apparel
Professional Wushu Kungfu Shoes
Feiyue shoes are a staple for almost all wushu practitioners and athletes in China with the shoes even being used by numerous shaolin monks and kung fu masters. 
The shoes are a popular export with numerous foreign martial arts clubs and schools importing them as the standard shoes for their students. 

History of Feiyue
1920s A cloth shoe is manufactured in China, this was to later evolve into Feiyue years later. 
In 1958, Da Fu Rubber Company designed and produced a kind of civil Jiefang shoe known as FEIYUE. These were a modification of the cloth shoes used by the Shaolin monks.

Today,The shoes are continued to be used today in China for general lifestyle & leisure, martial arts,kung fu,tai chi,parkour,free running,boxing,training, especially for martial arts are used by touring Shaolin monks around the world. 
Please see China to USA size conversion chart. 
Gender: Unisex
Outsole Material: Rubber
Style: Classic
Upper Material: Canvas
Insole Material: Rubber
Lining Material: Canvas
Feature: Light Weight, Breathable, Massage, Waterproof, Light, Anti-Slippery, Hard-Wearing, Shock-Absorbant
Shoe Width: Medium(B,M)
Closure Type: Lace-Up
Applicable Place: PVC Floor
Release Date: Summer2017
Level Of Practice: Beginner
Model Number: 502
Elements: TOTEM
Sports Type: Originals
Upper Height: Low
Heel Type: Flat
Brand Name: FEIYUE
Sex: Male And Female General-purpose
Sole Material: Rubber
Side Material: Canvas
Function: Anti Slip, Wear-resistant, Waterproof, Breathable, Lightweight, Warm A
Size: 32 - 47